Builderall ambassador is an exclusive and privileged role in Builderall marketing system and the leader in the Builderall organization. As an ambassador in Malasia, my goal is to create a massive network of successful business entrepreneurs, by offering them coaching, support, training and ensure they get the best result by using Builderall digital marketing platform.

Builderall is the biggest digital marketing platform on the planet earth and it happens because of 2 reasons, 1st is the great product (30+ digital marketing tools in 1 affordable price) and 2nd is having a great business model (affiliate marketing program). Builderall digital marketing tools are sold by our fellow entrepreneur also a business owner who is using these digital marketing platforms.
Builderall ambassador's role
As an Ambassador, I have a small group of committed entrepreneurs, work closely with the company, the ambassador also entitle for special training and promotional material focused on assisting regular builderall business owner (some are digital marketing agency). My goal is also to create a team of leaders to helps business owner and entrepreneurs prosper with their business growth as well as bring Builderall to every single state in Malaysia.
The beauty of this Builderall is it contains a list of 30+ digital marketing tools bundle which every business needs for their online presence.
1. Website Builder
2. Funnel Builder
3. Email Auto-Responder
4. Android/IOS App Creator
5. Magazine Editor
6. eCommerce
7. Video Tag
8. Design Studio
9. Presentation Studio
10. Photo Studio
11. Animated Video Creator
12. Floating Video Creator
13. Browser Notification
14. SEO Report Tools
15. Click Heat Map
16 Facebook Autopost
17. Facebook Chatbot
18. Share Locker
19. E-Learning
20. Script Generator
21. Social Proof
22. Roulette
23. WhatsApp Messaging
24. Video Wrapper
25. Instagram Auto-Responder
26. SMS Tools
27. Webinar Tools
28. Sitebot
29. CRM
30. Marketplace
31. Video Funnel Creator
During the time I explore Builderall (beginning of 2019), it only has approximate 23+ tools, and the company keep adding new tools without increasing the price plan. Below is the latest price plan. More information may visit: www.builderall.com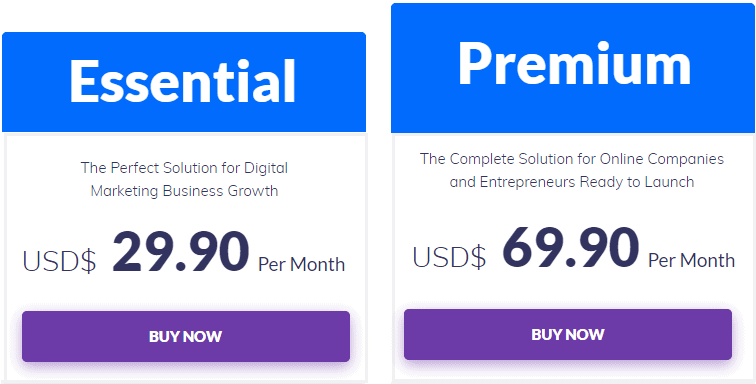 On July 2019, Builderall stops recruiting new ambassador, worldwide approviximate 1000+ ambassador and happen that I am the only Builderall ambassador in Malaysia. If you are interested to find out how this piece of business tools can help you grow your business. Feel free to get in touch with me @FollowCalvyn
Even if you need any assistance on your digital marketing campaign, I also hold a Digital Marketing agency who help a small business grow their business online by leveraging Builderall digital marketing tools.