Recap to the Cisco Black Belt 2.0 I mention earlier, apart from Meraki Black Belt, I had pursue to another specialization within the enterprise networking pillar, which is the Wireless specialization.
To access this training material, you may refer this link:
Cisco Black Belt Enterprise Networks: https://salesconnect.cisco.com/#/program/PAGE-14184
You may choose the Wireless tab, and drop down stage 1 and stage 2 proceed with the training material and quiz.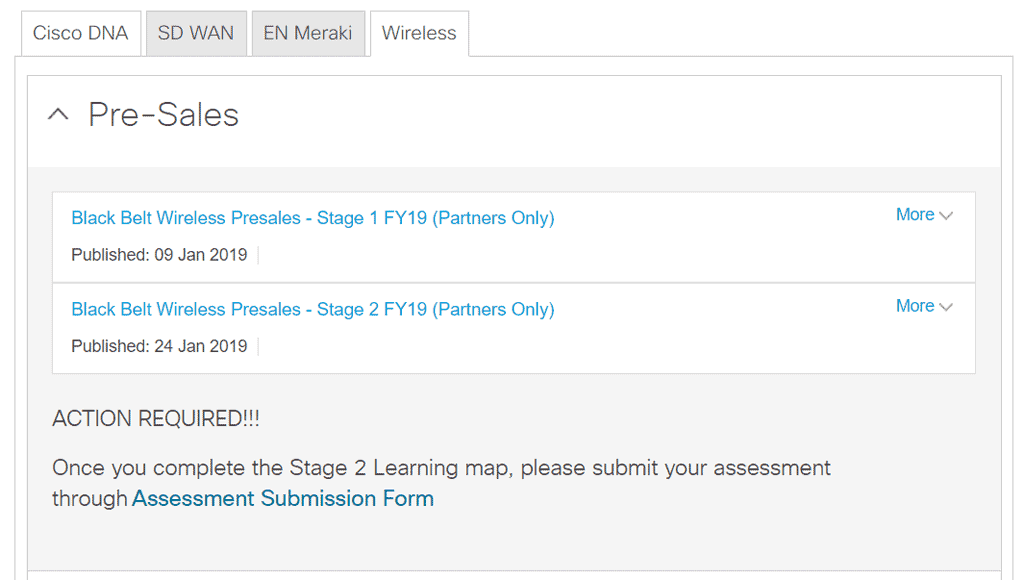 For Stage 1, there is 2 quiz to complete, Black Belt Program – Wireless Pre-Sales Stage 1 Quiz (25 question) and Black Belt Program – PSOG Pre-Sales – Enterprise Networking Quiz (10 Question), you may refer below for the quiz reference.
~ Apologize, this content is not available to public any more, Cisco had advice to remove this study material, Ultimately my intention is to promote this program; thing just does not goes smooth for you and me… Direct Message Me @FollowCalvyn if you need any further assistance & do subscribe to Calvyn.com for more tips, Good luck for your study hunt! ~
Next 10 question is for PSOG Pre-Sales Enterprise Networking Quiz
~ Apologize, this content is not available to public any more, Cisco had advice to remove this study material, Ultimately my intention is to promote this program; thing just does not goes smooth for you and me… Direct Message Me @FollowCalvyn if you need any further assistance & do subscribe to Calvyn.com for more tips, Good luck for your study hunt! ~
Good luck for your Cisco Black Belt Certification. If you yet to register this program, check out Cisco black Belt Registration